Chinese machines for family farming are on their way to the Northeast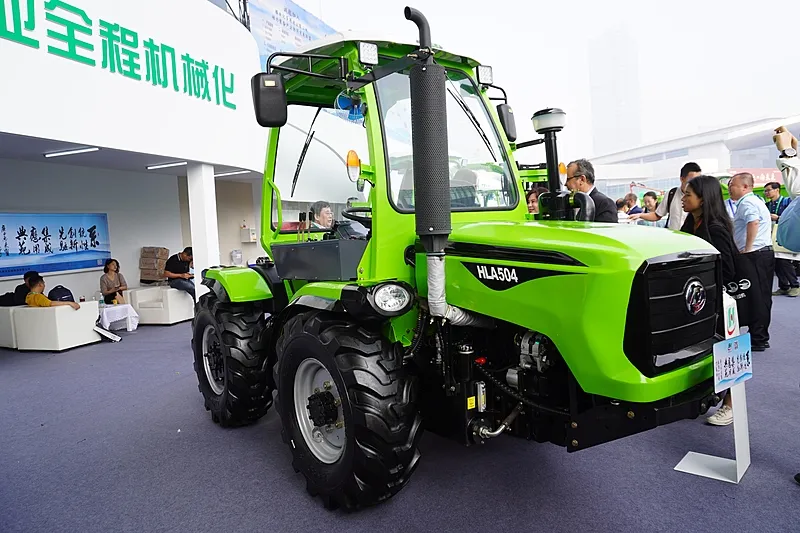 A Huili tractor, one of the machines destined for Brazil. - Juliet Xiao
The MST (Landless Workers' Movement) and the Northeast Consortium are advancing an agreement with Chinese institutions that will initially involve the shipment of 30 machines. Between November and December, a batch of Chinese agricultural machinery will arrive in Brazil. These machines include micro-tractors, mowers, seeders, and planters destined for productive areas of family farming in Ceará, Maranhão, Paraíba, and Rio Grande do Norte.
Approximately 30 machines will be used in 20 different types of crops, including settlements of the Landless Workers' Movement and other family farming organizations, such as the Rural Workers' Union of Apodi (RN). In the municipality of Apodi in Rio Grande do Norte, the Brazil-China Agricultural Machinery Demonstration Unit will be established to test and study the use of this equipment in the Northeastern soil.
In 2022, the Northeast Consortium signed a memorandum of understanding with the International Institute of Agricultural Equipment and Smart Agriculture Innovation at the China Agricultural University and the Association of Agricultural Machinery Manufacturers of China. The agreement, also signed by the Baobab International Association for Popular Cooperation, aims to provide access to machinery designed specifically for small-scale farming, such as micro-tractors, mowers, seeders, and planters.
Alexandre Lima, coordinator of the Family Farming Thematic Chamber of the Northeast Consortium, emphasizes the importance of this partnership for the region, given the inequality in Brazil in this regard: "The Northeast region of Brazil has less than 3% mechanization, while in Brazil, these levels don't reach 14%, and in the South, family farming mechanization levels approach 50%."
The Relationship between Brazil and China: Two Giants in Family Farming Worldwide
In Brazil, 77% of all agricultural establishments belong to family farming, according to the last Agricultural Census conducted in 2017. Family farming properties in the country total 3.9 million and occupy only 23% of the arable land, equivalent to 80.8 million hectares, according to the 2023 Statistical Yearbook of Family Farming.
In contrast, in China, peasants represent over 80% of agriculture, which also includes cooperatives and state-owned enterprises. This category is responsible for cultivating over 70% of arable land in the country, according to the last Chinese agricultural census conducted in 2020. On average, each peasant owns less than one hectare of land, with the majority having half a hectare.
The mechanization of agriculture in China was made a priority by Chinese leader Mao Zedong in 1959 as part of the Great Leap Forward development campaign, which asserted that the fundamental solution to agriculture lay in mechanization. Despite this priority, mechanization advanced more rapidly during the Reform and Opening Up period in the late '70s with measures such as tax exemptions and industry subsidies.
João Pedro Stedile, from the national leadership of the MST, states that based on the structure of small production units created through land reform, China has industrialized its economy over time, producing machinery for this type of peasant. "In China, there are 8,000 tractor manufacturers. In Brazil, we have four major tractor factories, all multinational and all focused on large properties and big machines," says Stedile, who visited the Asian country in April of this year.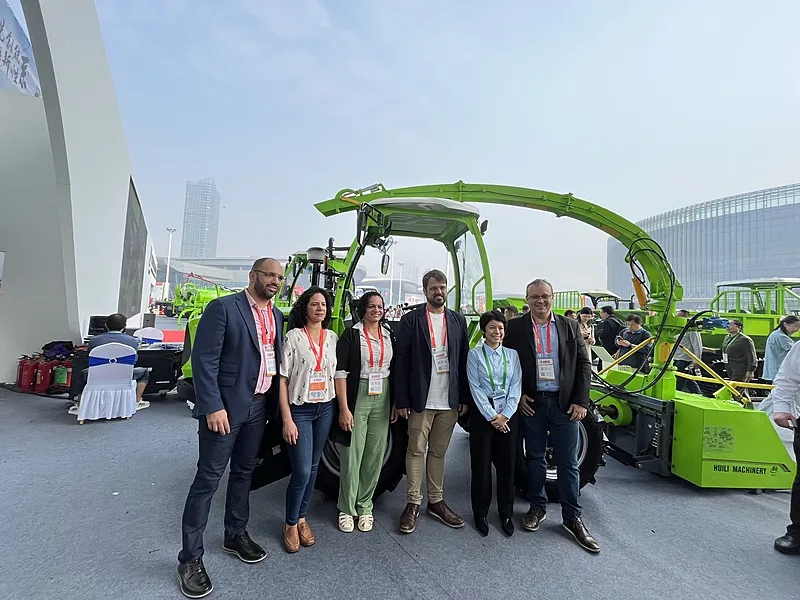 Members of the Northeast Consortium and the Landless Workers' Movement (MST) at the International Agricultural Machinery Exhibition in China, held from October 26 to 28, 2023 / Juliet Xiao
Professor Yang Minli from China Agricultural University, rated as the second-best university in agricultural sciences globally in the Best Global Universities ranking, sees many similarities between family farming in Brazil and China: "China's development model for peasants, which uses commercial services as a strategy to empower communities (such as agricultural machinery cooperatives), as well as China's small and medium-sized agricultural machinery products, have certain adaptability to Brazil," says Yang Minli. Through agricultural machinery cooperatives in China, which receive assistance and financial support from the central government or local governments, Chinese peasants share both costs and machinery.
Mechanization of Agriculture in China
One of the reasons for the development of agricultural mechanization in China is the significant rural-to-urban migration process, according to Yang Minli. China's urbanization rate increased from 17.92% in 1978 to 65% in 2022, according to data from the National Bureau of Statistics of China.
"A large number of young and middle-aged rural workers moved to urban areas. Due to rapid economic development in China, there was a high demand for labor in the industrial and service sectors, which could provide high-income opportunities for young rural migrant workers. As a result, they migrated to cities," explains the professor from China Agricultural University.
Starting in 2004, China initiated a new subsidy campaign for the purchase of agricultural machinery. From that year until 2015, the country allocated 120 billion yuan (more than 82 billion Brazilian reais) to subsidize the purchase of over 35 million machines.
During this period, the level of agricultural mechanization in China increased from 33% to 61%. Currently, the figure stands at 73%.
After the policy was launched, the government made adjustments to the system and started subsidizing farmers directly, no longer allocating funding to companies or financial institutions. Partly to avoid putting financial pressure on businesses, as explained by Wu Zhaoxiong, the director of the Agricultural Development Center of Hubei Province.
A second reason for the change was to ensure that peasants had direct access to the machinery without incurring debt, for example. "If subsidy funds were directly allocated to companies, there could be a profit motive between companies and government departments. However, by advocating for full payment for machinery purchases, subsidy funds are given directly to farmers, allowing them to truly benefit from the national policy," says Zhaoxiong.
A study published last year by the Agricultural and Science and Engineering universities in Hunan Province debated the idea that agricultural mechanization only benefits from large-scale implementation.
The researchers show that the use of machinery on small agricultural lands has played a fundamental role in ensuring food security and eradicating poverty in rural China. Among the reasons for improved rural income are reduced production costs and the diversification of jobs not directly related to agriculture.
Yang Minli asserts that with this structure of small-scale agriculture, China can ensure its food security goals. For eight years, the total grain production has exceeded the central government's target of 650 million tons produced annually.
Alexandre Lima states that the partnership with Chinese institutions goes beyond advancing agricultural mechanization in the Northeast. "It's an exchange of knowledge regarding public policies. China has recently been a reference for ensuring that public policies reach rural communities. So, this collaboration will allow us to learn more from the Chinese, and the Chinese can also learn from the Brazilian experience in strengthening family farming."
The three shipments of machines are expected to arrive in Brazil between November and December. The inauguration of the demonstration unit in Apodi (RN), as well as the start of machinery use in other areas, is expected to take place in February of next year.