Mainly used in paddy fields and tall crops. According to the modular concept, when necessary, it can be switched to a standard tractor or a low-ground clearance tractor by switching the wheel speed reduction.
1. The whole machine has a compact structure, flexible steering, and a small turning circle radius, making it more suitable for operations on small and medium-sized plots.
2. Two-way driving function, dual clutch and dual PTO design, easy and fast operation, meeting different operating needs, and efficient operation.
3. The gearbox has a full gear set for shifting, making the operation smooth and reliable; the dual-clutch design makes the operation more efficient and reliable.
ITEM
PARAMETERS
CODE
/
HL704H-2
Whole machine
Overall size(L×W×H and part)
mm
4850×2000×3050(To the top of cab)
Type of driving
/
Four-wheeled drive
Wheelbase
mm
2120
Min. Using mass
kg
3640
Min. Turning radius
mm
4200
Min. Ground clearance and part
mm
1000(Bottom of rear axle)
Power module
Engine
The rated power
kW/HP
51.5/70
The rated speed
r/min
2200
Transmission
Gearbox(forward/back)
/
8/8
The rated speed range(forward/back)
km/h
1.97~36.44/1.75~32.19
Steering
Type of steering
/
Articulated steering
Traveling
Front wheel track
mm
1635
Tires/numbers(front)
/
11-32/2
Max. Climbing slope
%
46.6(≈25°)
Functional module
Traveling and Braking
Rear wheel track
mm
1635
Tires/numbers(rear)
pic
11-32/2
Walking brake system
/
Closed air brake
Parking brake system
/
Air brake
Working device
Hydraulic output
/
1 set or 2 sets
PTO output spline
/
8-38×32×6
The rated speed of PTO
r/min
540/720/1000(single or dual)
Three types of cab

Twist and bend 15°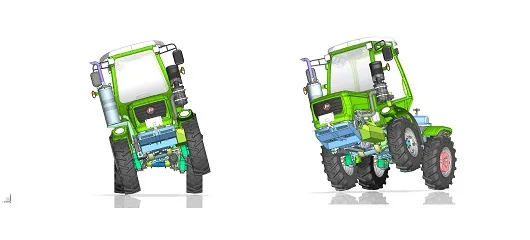 Modular concept display