1. This product is independently developed and designed according to the concept of system engineering. It is a multi-purpose hilly mountain tractor composed of a main power module, a functional module and an attachment module. The combination of each module can be quickly connected through the electromechanical and hydraulic standardized interface, making the operation simple and convenient., flexible.
2. The innovative structural design can realize functions such as variable wheelbase, adjustable ground clearance, wheel-track switching, and two-way driving, and can be equipped with a variety of working platforms;
3. The application of key technologies such as front and rear axle wheel speed reduction, articulated steering, four-wheel and other large drives, front and rear differential locks, and air-controlled mechanical seal braking devices make the whole machine have a small turning radius, good passability, and strong stability., superior climbing ability, better adapted to large-scale operations under various complex working conditions.
ITEM
Parameters
CODE
/
HLB704
Single wheel
Double wheels
Whole machine
Overall size(L×W×H and part)
mm
4410×1610×2580
4410×2245×2580
Type of driving
/
Four-wheeled drive
Wheelbase
mm
1620
Min. Using mass(double wheels)
kg
2770
3015
Min. Turning radius
mm
3190
4185
Min. Ground clearance and part
mm
470(Bottom of rear axle)
Power module
Engine
The rated power
kW/HP
51.5/70
The rated speed
r/min
2200
Transmission
Gearbox(forward/back)
/
8/8
The rated speed range(forward/back)
km/h
1.83~33.8/2.04~38.26
Steering
Type of steering
/
Articulated steering
Traveling
Front wheel track
mm
1290
1625
Tires/numbers(front)
/
11.2-20/2
Max. Climbing slope
%
46.6(≈25°)
Functional module
Traveling and Braking
Tires/numbers(rear)
pic
11.2-20/2
Rear wheel track
mm
1290
1625
Walking brake system
/
Closed air brake
Parking brake system
/
Air brake
Working device
Hydraulic output
/
1set or 2 sets
PTO output spline
/
8-38×32×6
The rated speed of PTO
r/min
540/720/1000(single or dual)
Three types of cab

Twist and bend 15°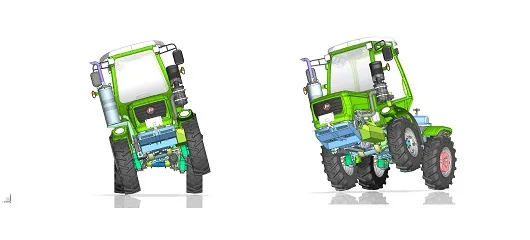 Modular concept display